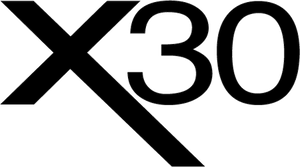 X30 INTRODUCTORY PACKAGE BEFORE 2020
Take advantage of the our pre-launch package pricing. We put together this Ultimate Package for sales before 2020. This package can be customized with plug-n-play add-ons like Automatic Tool Changer, Tool setter  and  4th axis. Lead time is around  8-10 week
THE MACHINE YOU HAVE BEEN ASKING FOR IS FINALLY HERE!
It took us almost 2 half years to build and countless revisions. To make the mill that you have been asking for.

Starting from scratch we set off to build a ground up mill that would have everything that you would want with a price tag that would not break the bank.

A couple highlights that we knew that it needed are, Industrial Grade Servos, Precision Linear Rails, Ground Ball Screws, Hi Speed Servo Spindle Motor (8,000 RPM) and to wrap it all up… A beautifully designed Mill Enclosure the has Flood Coolant and a Chip Management System, Built in..

With the beefed up Spindle Motor we added. We knew you would need a BT30 spindle with Power Draw-bar so you can make chips in any alloy. Like Harden Steel, Titanium and of course Aluminum..

This Mill is the Real Deal! You are not going to find a better machining center anywhere. Period..
Lets talk about the Enclosure.
10 ga. Steel base

Powder Coated (not painted)

Polycarbonate Windows

X30 Control Panel w/ 22.5"  Touch Screen Monitor (opt) and MPG controls (opt)

Coolant & Chip Management System (opt)

Liner bearing Enclosure Doors

Door Lock System (opt)

Tool Tray (opt)

BT30 Tool Holder (opt)

Cabinet Lighting (opt)

Can be moved with a pallet jack

Portable hand wheel (opt)

Full Electronics Cabinet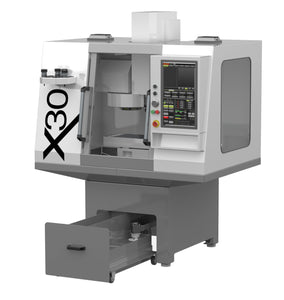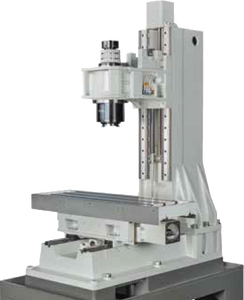 What's Under The Hood
 Meehanite casting main frame with annealed & stress relieved for long term reliability

8 tools ATC armless

3HP spindle motor

8,000 rpm spindle speed

3 axes Precision linear guide way

Precision ball screws for high accuracy and long lasting

Automatic Oiler

100% laser tested for positioning accuracy & repeatability

Telescopic steel way covers on all three axes

BT30 spindle taper

Coolant system

Central lubrication system

Delta Servo Motors

Delta VFD-VE Inverter

Rigid tapping (opt)

Portable hand wheel (opt)
Specification

Travel
Longitudinal travel (X-axis)
13.75"
Cross travel (Y-axis)
9.45"
Vertical travel (Z axis)
14.25"
Spindle nose to table top (D)
1.18" to 15.50"
Spindle center to column front surface
10.25"
Spindle
Spindle taper
BT30, pull force=30kg
Spindle speed
8000 rpm
Transmission of spindle & motor
Belts
Table
Table Size
31.88" x 9.84"
Max. Table capacity
220 lbs
T-Slot (Thread x width/ Base H x W)
1/2"-13 / .625" / .34375" / 1"
T-Slot Spacing
4.125"
Motor
Spindle motor/max torque
3HP
Servo motors on XYZ
0.75 kW
Coolant pump
1/8 HP
Lubrication pump
150 W
Power requirement
40A, Sinngle Phase, 230-240V (Max)
Feed Rate
Rapid feed rate
X/Y/Z: 300/300/300 IPM
Cutting feed rate
1 - 400 IPM
Automatic Tool Changer
No, of tools
8
Max tool Length
7.5"
Max tool diameter
2"
Max tool weight
10 lbs
Dimension & Weight
Length x width x height
50" x 42" x 56"
Net weight
1586 lbs